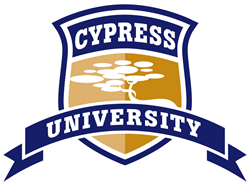 Appleton, WI (PRWEB) April 17, 2014
With registration quickly filling up at nearly 200 attendees, Cypress University 3.0 from Cypress Benefit Administrators was a success in Las Vegas this week. The third annual conference featured a variety of keynote presentations and panels on state-of-the-art cost control solutions for the self-funded industry.
Wisconsin-headquartered Cypress first introduced the event in 2012, giving employer-clients, brokers and prospects expert insights on ways to contain the escalating costs of employee benefits. This year, the third party administrator (TPA) organized the conference to include an all-new venue, schedule and line-up of presenters.
Cypress University 3.0 kicked off at Mandalay Bay Hotel & Casino with a keynote presentation by Adam Russo, Esq., CEO of The Phia Group and nationally renowned attorney for self-funded plans. Russo discussed the most critical components of a legitimate self-funded plan, including plan document language and design.
Panel sessions followed with an interactive Q&A format on topics relating to stop loss coverage and real-world successes Cypress clients have had with self-funded plans.
One of the reasons the conference was such a hit is because we built the agenda around the issues that matter most to our audience, said Tom Doney, president and CEO of Cypress. The input from last year showed that people wanted to dive deeper into stop loss and plan implementation discussions so we did just that.
Additional presentations during the two-day cost control conference included:


The evolution of employee wellness getting employees to buy into and participate in corporate wellness initiatives; Jim Miller, founder/CEO of KardioFit, Inc.
Alternatives to PPOs ensuring transparency, fair reimbursement and accurate hospital charges through Reference Based Reimbursement (RBR); John Powers, executive vice president of sales and marketing of AMPS
Dependent eligibility audits the risks and costs of inadvertently covering ineligible dependents; Ed McDermott, managing director of BMI Audit Services, Inc.
Innovations in telemedicine timely medical care with reduced costs and anytime access; Mike King, chief sales officer of Teladoc
Dialysis cost control game-changing advice for identifying and managing chronic kidney disease, improving quality of life and controlling dialysis claim costs; Jeff Perkins, senior account executive of DCC, Inc.
In addition to the series of presentations and panels, participants also had the chance to talk with presenters, industry experts and others during a networking lunch and further interactive opportunities.
It was two days packed full of education and information sharing as well as a lot of enlightening conversation about ways to contain costs, Doney said. Im confident that everyone left Cypress University with new ideas on savings strategies that can be implemented in their own benefit plans.
A privately held company headquartered in Appleton, Wis., Cypress Benefit Administrators has been pioneering the way toward cost containment in self-funded health benefits since 2000. The third party administrator (TPA) is the countrys first to bring claims administration, consumer driven health plans and proven cost control measures together into one package for companies ranging from 50 employees to thousands of employees. It serves employer-clients across the U.S. with additional locations in Portland and Salem, Ore., Omaha, Neb. and Colorado Springs, Col. For more information on Cypress and its customized employee benefits, visit http://www.cypressbenefit.com.
Find More Universal Life Coverage Press Releases